How do you get TAB, one of Australia's great brands, back where it belongs? 
We turned it into Australia's newest sports brand.  A saturated and shouty sports-betting market had eroded TABs brand love and loyalty. Worse still, Aussies no longer knew what we stood for. So we transformed Australia's oldest bookmaker into Australia's newest sports brand; one that understood their psyche, appreciated their shared quirks and encouraged all to get off the sidelines and play. We went where our competitors simply couldn't – the fields of play. The markings became our grid, grass our colour palette, and Australia's playing fields our playing fields We owned the tracks. We owned the courts. And once again we owned fans.
Our brief focused on Spring, the peak period of Australian sport and racing, which also included international sports (EPL, NBA, NFL, MLB). We had to elevate TAB beyond the tactical to the culturally relevant, and rise above noisy competitors. With the wagering category driven by promos, promiscuity and non-existent loyalty, we had to prove TAB is the home ground for Aussie punters.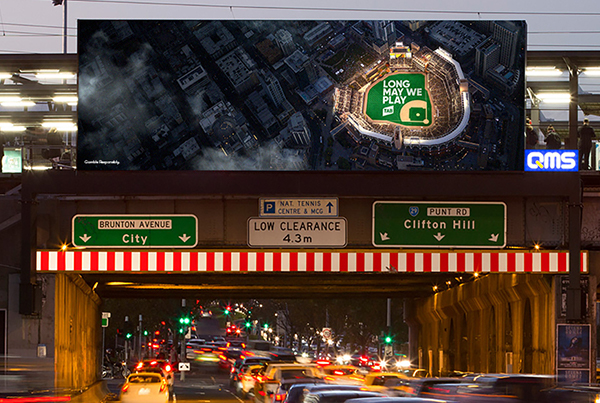 As part of our overall Spring campaign, we owned the Australian racing, American baseball and football markets by going where our competitors couldn't, onto the fields of play.
The markings became our grid, the grass our colour palette as we ingeniously turned international playing fields into our playing fields.
The work was launched in all national newspapers.
At first unbranded, then branded a week later.
Our OOH campaign ran in large format, and then repurposed for targeted digital OOH.
"Long May We Play recognises the huge role racing and sport play in the lives of Australians and their ability to bring us together. TAB has been a 'home ground' of sorts for Aussies for decades, whether that be at the track or in one of our venues. This is an exciting new direction for TAB and we can't wait to share this work and the exciting things we have planned through spring with the country.

Luke Waldren

TAB EGM Marketing & Consumer
"We've been working hand-in-glove with TAB to deliver a brand platform with real substance that is worthy of one of Australia's most iconic brands.

Long May We Play is truly about the spirit of Australians; the deep connection we have with Racing and Sport in all its iterations and the value that only TAB can bring, well beyond a bet. As much as it leans on heritage, we think this brand platform is a jumping-off point for category-defining progressive thinking.

Cam Blackley

M&C Saatchi Chief Creative Officer